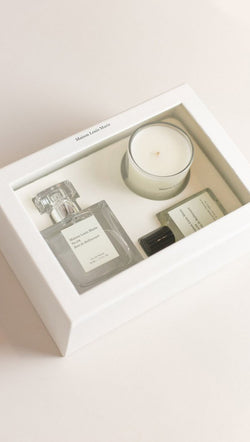 Luxury Gift Set - No. 04 Bois de Balincourt
Fragrance Family: Earthy & Woody

Scent Type: Warm Woods

Key Notes: Sandalwood, Vetiver, Amber Wood

Fragrance Description: Maison Louis Marie composes delicate scents to enchant your lifestyle with a botanical tradition since 1792. This scent is a sandalwood fragrance with a dominant cedarwood and sandalwood accord supplemented by a spicy cinnamon nutmeg complex and an earthy vetiver note. Candle burn time is approximately 24 hours.

This set contains:
- 0.50 oz/ 15 mL Perfume Oil
- 1.7 oz/ 50 mL Eau de Parfum
- Votive Candle

About the Fragrance: Louis Marie Aubert du Petit Thouars was a pioneer in French botanical history. Marie du Petit Thouars continues his legacy by creating luxurious products that focus on illustrious scents imbued with unique floral fragrances.

As always, Maison Louis Marie's fragrances are vegan, cruelty-free, and free of parabens, phthalates, and sulfates.