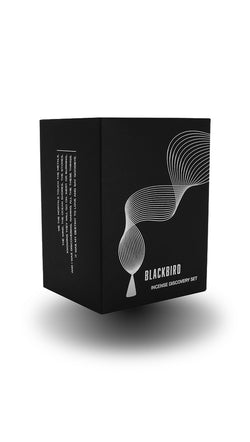 We the mortals touch the metals,
the wind, the ocean shores, the stones,
knowing they will go on, inert or burning,
and I was discovering, naming all the these things:
it was my destiny to love and say goodbye.
-Pablo Neruda
For the new recruit or the seasoned veteran. The BLACKBIRD Incense Discovery Set allows you to follow along with the story and choose your own adventure.
ONE TWO CONE PACKET OF EACH: Ai, Gorgo, Izba, Lone, Mars, Muru, Ploom, Targa and Tilde